Introduction
The advancement of technology has made people's lives easier. It has enhanced the standards of living through innovative products and services. Similarly, the business world has been thriving with the introduction of new developments. Computers and information technologies helped businesses to improve their communications with customers, better conduct transactions, and monitor their productivity.
One of such enhanced business areas are transportation systems. New technological achievements have increased speed, efficiency, and conveniency of transit. A brilliant example of this advancement is an Intelligent Transportation System (ITS).
What are Intelligent Transportation Systems?
The Intelligent Transportation System is a technology in which all vehicles and infrastructure elements, such as road signs and traffic signals, are connected to central control. Its main purpose is to improve flow efficiency, reduce congestion on driveways, prevent accidents, and provide drivers with actual information on road conditions.
It can gather data from probes and other sources including satellite systems, traffic detectors, weather stations, emergency services, and computers to process the data. ITS also includes self-diagnosis capability of vehicle parts to proactively monitor their condition.
The system has the ability to inform motorists of hazards and incidents, tell them how fast they are driving, and provide optimal routes. Besides, it can provide better road maintenance information and deliver traffic data to cities for processing and analyzis.
It is important to note that ITS does not replace traditional technologies, but instead makes use of them in a complementary way. ITS devices are often integrated into the infrastructure and vehicles themselves and ensure:
optimal route planning and timing;
driver assistance, including collision avoidance;
traffic management and control;
traffic safety and security;
communication between road users;
driver support and guidance.
ITS has been around for a while now but is just gaining mainstream attention as more cities start to implement these systems. This will be a gradual process that may even take some time due to the large scope of this project. However, the benefits brought by ITS are undeniable and must be taken seriously.
The Benefits of Intelligent Transportation Systems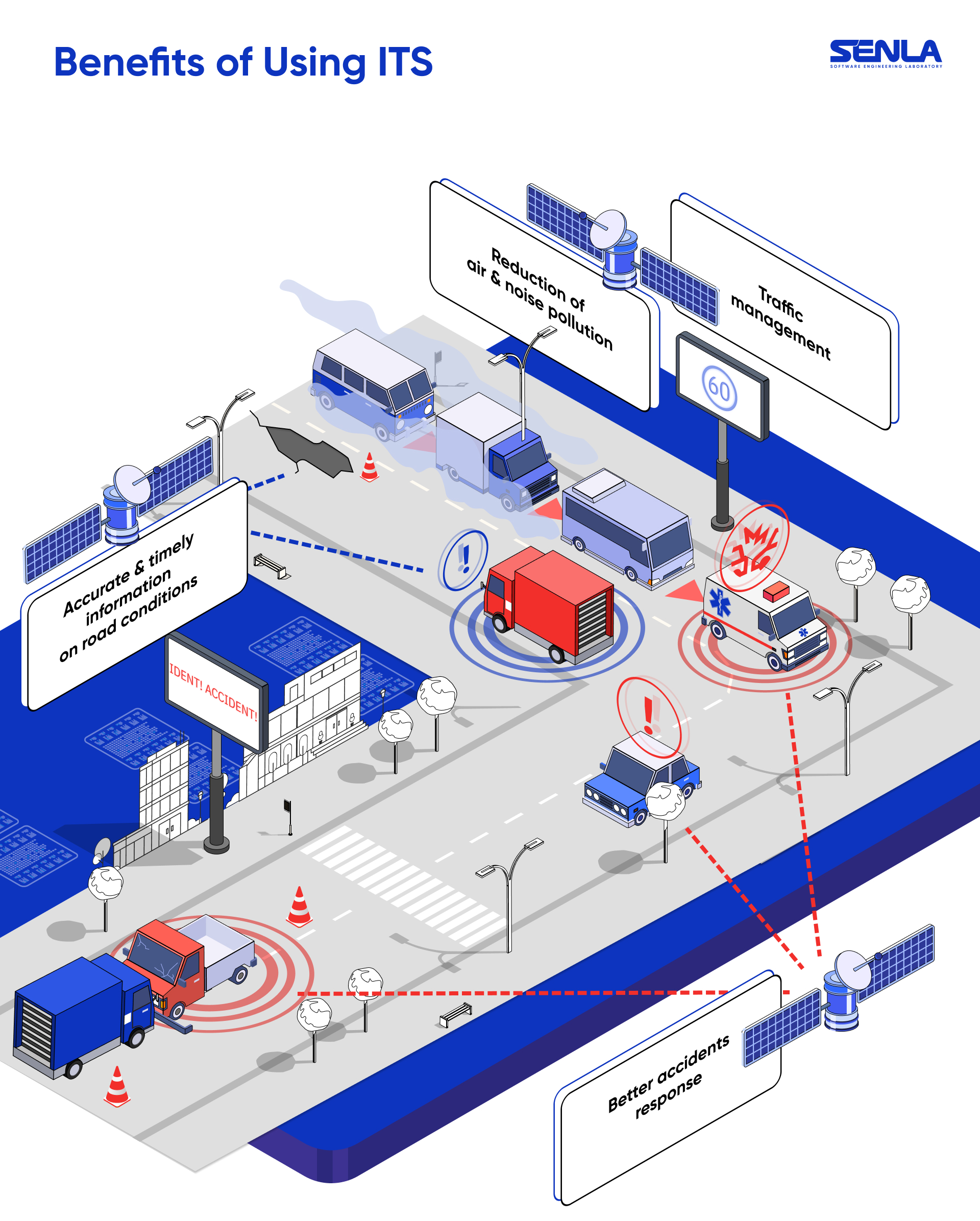 "The central feature of ITS is its ability to deliver in real-time, traffic and travel information and a flexible means of network control," states the World Road Association. Following are 4 major benefits that using an ITS brings.
Better accident management
When crashes occur, it can identify the incident location and provide immediate warnings about that area to other drivers. This could reduce the risk of secondary accidents and improve emergency response time.
It makes sense to use ITS for these purposes when you consider that traffic accidents are the first cause of fatalities worldwide. According to the World Health Organization (WHO), an estimated 1.3 million people die and 50 million more are injured in road crashes each year. 
Accelerating reaction and streamlining response procedures, ITS can save many lives, lessening this number and improving the future of road safety. 
Enhanced traffic management and control
Intelligent Transportation Systems collect a wide range of information from vehicles and infrastructure. This data is then analyzed and applied to regulate flow in a way that optimizes capacity and efficiency. This feature is especially beneficial for businesses where even slightest delays can cost a lot.
For instance, when sensors report an overload further down a highway, incoming traffic can be rerouted sideways to lessen an iflux and help a jam dissolve faster. The system can do this adaptively, meaning that it can easily respond to any changes in traffic flow.
Reducing air and noise pollution, congestion, and energy consumption
This is especially the case in stop-and-go congested traffic conditions. The system oversees if there's enough space between vehicles to keep the speed steady, thus minimizing fuel consumption and emissions. If there isn't, it applies regulative procedures, like the ones described above.
Broadcasting live road information
Another benefit this system has is that it can provide drivers with accurate and timely information about traffic conditions and any possible road hazards (e.g. roadblocks). The system also allows the authorities to update travelers on any changes or disruptions that might affect their routes.
The Intelligent Transport System does not only save lives but helps businesses improve their bottom line by reducing transport costs and increasing security. It also provides peace of mind, knowing that your shipment arrived at the right time and in one piece.
Our customers here at SENLA are already reaping the benefits of automated systems, developed by us. They provide accurate information about the traffic conditions on the network and the availability of the best transport options. To put it all into perspective, here's a list of outcomes that one of our clients achieved after implementing the system we developed:
Optimization of the aircraft loading scheme and strict adherence to algorithms.
Assurance that the calculations are done in the most optimal and fastest way possible.
Elimination of human errors in calculations.
Increased fuel economy as a result of the optimal cargo load allocation.
Acceleration of receiving documents for the location of cargo sets.
Possibility of automatic recalculation in case of adding loads.
Reduced risk of damage of certain parts of the aircraft connected to improper placement of loads.
Implementation of an Intelligent Transportation System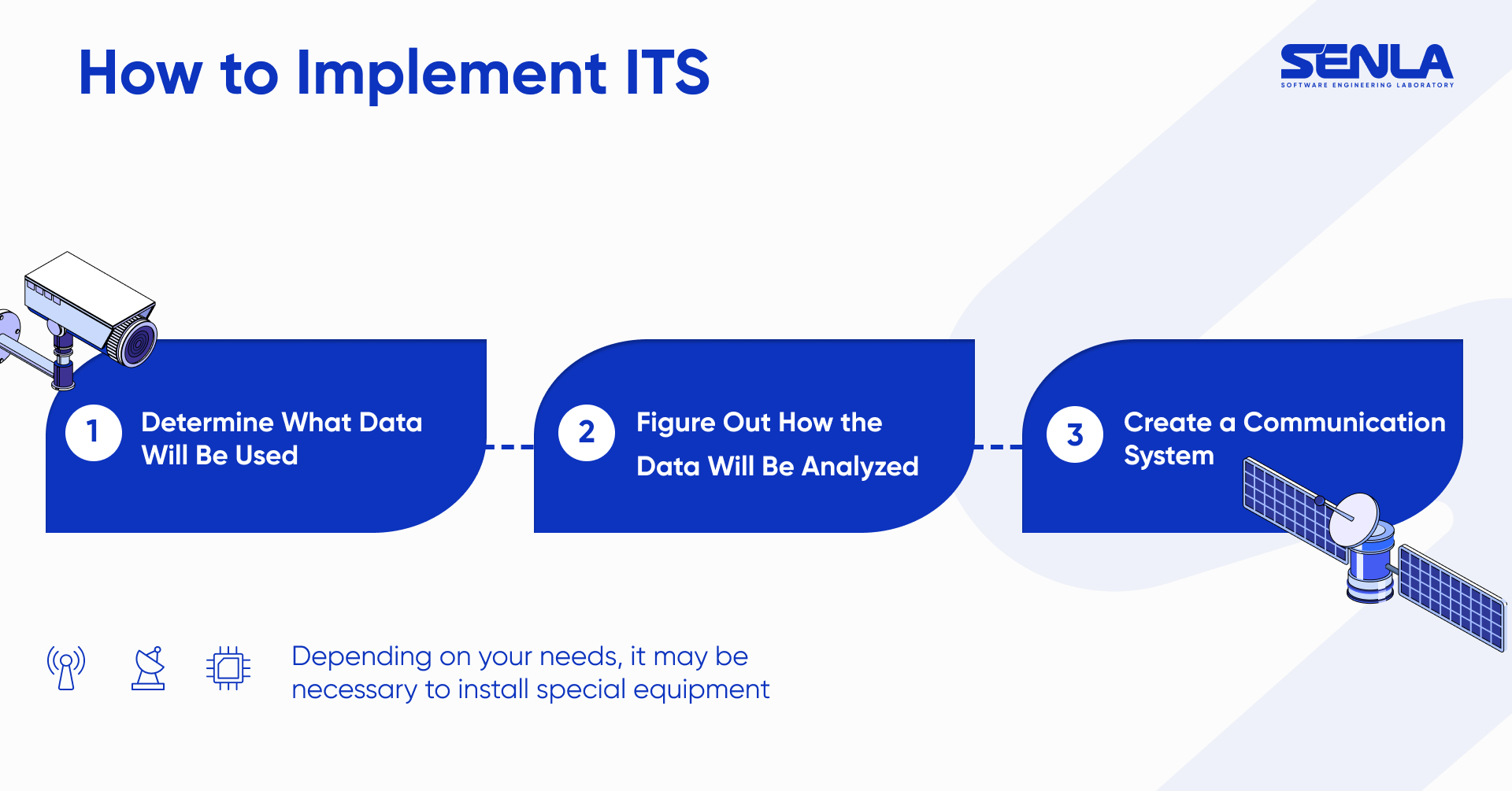 This is not difficult. It can be done in incremental stages and involves creating and setting up small interrelated components that would eventually make the entire system work. However, it is important to understand how to properly construct and integrate these components so that the system would be able to achieve its intended purpose.
The first step is to determine what data, related to road conditions, will be used and how it will be acquired. This should include information about traffic, infrastructure, other travel or transportation-related data. It is important that all necessary data is included to ensure that the system works as intended.
The next step is to figure out how the information will be analyzed and used. State-of-the-art ITS can use deep learning algorithms to sort through it and provide actionable insights. The way you structure the platform will depend on the data that will be used, and the insights you want to derive from it.
With these in place, the next stage is to create a communication system that will allow the data to be exchanged between the different parties – drivers, local authorities, and vehicle manufacturers – needing it. This will ensure that all stakeholders have access to the information they need.
Depending on your needs, it may be necessary to install special equipment, which can be used to assist in data collection or communication. If you are looking for real-time traffic flow estimates, speed and volume readings, and the like; you will need to install roadside sensors and collection systems that can capture and transmit this data to a central server or authority.
Once you have all of these in place, you can start using the data to make informed decisions about the transportation system. This should translate to better traffic management, safer roads, and more efficient travel plans. The data can also be used to make future infrastructure decisions, especially when it comes to building new roads. Possibilities are endless!
How We Can Help You
SENLA is at the forefront of providing ITS solutions to our customers. We have worked with several clients in this area to help them improve their businesses.
All our solutions are tailored to meet the unique needs of our customers. We work hard to ensure that each customer receives a system that is just right for them, in terms of size, features, and price. Our approach is the opposite of a "one-size-fits-all" solution: we want to help you get the most out of your ITS, which is why we will always configure a system that meets your needs.
SENLA can advise you on the best approach to take when implementing an ITS. We have a proven track record of helping companies achieve their road safety, transportation, and transportation management goals.
Experience the Intelligent Transportation System that can change your business. Contact us today for more information about how we can help you.