The Challenge
Help BOSCH assess its external vendors to promote accountability with local manufacturing legislature, ecological benchmarks, quality standards, cost reduction, and adherence to the processes.
The Solution
SENLA helped BOSCH deploy a worldwide vendor assessment system to control product profitability.
Our solution integrated with BOSCH's PCM (Product Cost Management) and helped identify and optimize risk-prone partnerships, making the process transparent, formalized and efficient.
The Impact
BOSCH was successful in streamlining the process of analyzing the quality of its manufacturing partners' performance. Vendor assessment data was included into the PCM system, which allowed to represent planned and simulated costs more accurately and increase profitability.
Turning relationships into partnerships
The Bosch Group is a leading global supplier of technology and services. Its operations are divided into four business sectors: Mobility Solutions, Industrial Technology, Consumer Goods, and Energy and Building Technology. As a leading IoT provider, Bosch offers innovative solutions for smart homes, Industry 4.0, and connected mobility. 
Bosch improves quality of life worldwide with products and services that are innovative and spark enthusiasm. In short, Bosch creates technology that is "Invented for life."
Being such a complex global company requires efficient and fine-tuned instruments to operate, and reliable business partners worldwide.
To build a network of reliable partners you need a set of standards and mechanisms to promote accountability to these standards. BOSCH has designed the business logic to run and implement vendor assessment, but lacked in-house talent to translate it into a technological solution fast.
That's where SENLA came in to help. After a long vetting process, a few onsite visits and extensive audits, BOSCH decided to partner with SENLA. We had the necessary high-skilled resources and committed to deliver the solution in a tight 6 months time frame.
"Our collaboration exceeded all expectations.
SENLA's solution received positive feedback from key stakeholders and daily usage rates surpassed all our forecasts. People enjoy using the application they've designed and developed.
In three words I would describe them as cost-effective, organized, and creative.
I'm looking forward to working on future projects together."
Unlocking faster path to a better business outcome
Work started shortly after we passed the initial vetting process. We were able to jump into architecture design right away, because the scope of work and requirements were defined in great detail by the BOSCH team.
"We have never seen requirements defined so precisely before. It was like two laboratories working on creating a new drug. BOSCH supplied the pains and challenges that had to be solved, and we provided the required solution."
The cornerstone of the solution was a mobile application that integrated with BOSCH's PCM system and allowed employees to assess how well a certain vendor meets the standards criteria.
The amount of data that auditors had to take into account was absolutely massive. Local variance from country to country in environmental standards is astounding, and that's only a tiny portion of an assessment.
Our solution had to be easy to use on the go, as auditors would visit suppliers onsite, walking through production lines and making sure that everything is aligned with strict standards. There was no time to waste digging through countless options in the application, it has to be robust and user-friendly.
We utilized the ubiquity of cameras in modern mobile devices and helped document the processes with photos and videos, eliminating the need for additional equipment. 
Data storage and transfer, validation and deduplication had to be automated to minimize human error and allow employees to focus on what matters: quality of the supplier.
Automatic reporting was a big part of the system and allowed auditors to identify risks and non-compliance, providing a clear grade to a vendor with improvements strategy.
To deploy the solution securely and on scale, we implemented MDM capabilities.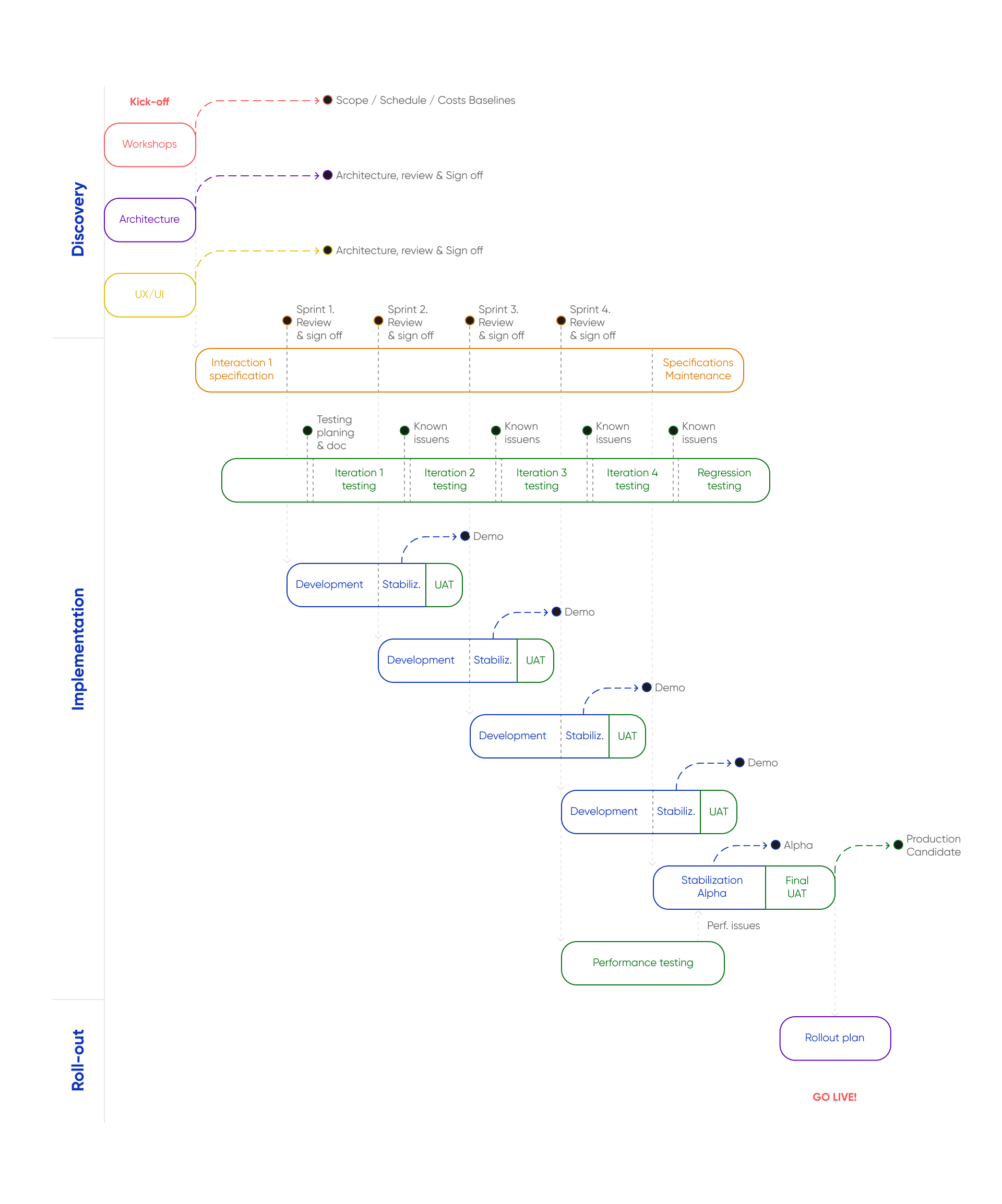 ROI delivered in first months
It took us six months and a few PhD caliber analysts to deliver the project on time. 
We worked in our regular 2-weeks sprint intervals, delivering a new demo to the BOSCH team every Friday for their feedback.
The diversity of our team helped us move fast on this complex project. Our analysts with PhD degrees impressed the client with their knowledge and skills, and accelerated our progress.
When the project was completed, we visited the client and made sure everything was performing well. Live testing was performed in production to ensure seamless integration with the PCM.
The solution has delivered ROI in its first months and helped BOSCH streamline its production pipeline, identify reliable partners and decrease costs. One more partnership we value that is based on shared values and priorities.
Why Senla?
High developer commitment
SENLA software developers are your full-time employees, and they're as dedicated to your success as your in-house team.
Direct communication
You, your tech lead, or your project manager communicate with the dedicated development team directly. No middlemen, no miscommunication.
Predictable costs
You pay your developers' salaries and a flat monthly fee for our services.
Flexibility
Change team size with only one month's notice. Request advanced IT security. Travel to our offices to work alongside your software developers or bring them over to your headquarters.
Frequently Asked Questions
I'm only looking to find a team asap. Can you help?
Sure! We can deploy a team within 10 working days.
What if I want to scale a team to 15 people?
We have lots of engineers & we also add engineers (in case of sick leaves & vacation) in big teams to ensure delivery.
We want developers with Agile experience. Do you do that?
Of course we do! We hire top engineering experts that follow and create industry standards.