The Challenge
Help Bayer streamline the processes of planning and hosting large-scale events among multiple internal and external teams. Consolidate a mix of numerous solutions into a single application to cut costs, increase productivity and align diverse departments with a single source of truth.
The Solution
SENLA helped Bayer consolidate manifold requests from multiple departments into a cohesive unified solution, built with modern technologies and capable of scaling for the needs of a global corporation.
The Impact
Bayer solidified existing and built new relationships between employees across various departments, which significantly reduced the amount of time and resources spent on planning and organizing events. 
With a unified application, catering to the requirements of dozens of stakeholders, the system was eagerly implemented by every team responsible for event management.
Unleashing the culture of co-creation and creativity
Bayer is a Life Science company with a more than 150-year history and core competencies in the areas of healthcare and agriculture. The company focuses on developing innovative products, and finding solutions to some of the major challenges of our time, such as improving the quality of life for a growing population, and preventing, alleviating and treating diseases.
Hosting events for partners, doctors and researchers is one of the marketing tools that Bayer uses to establish itself as an industry leader. There are hundreds of events held every year for thousands of attendees. How do you manage such a complex process spread among multiple departments?
The old solution was barely working, it was a mix and match of outdated apps that would overlap in functionality, but wouldn't be flexible enough to fit the current business processes. Nobody in the company liked using the current set of tools, the budget was growing out of proportions and there was little collaboration and communication between the teams involved. It was time for a change.
When Bayer came to us with an idea of developing an event management solution, it was just that – an idea. There were vague requirements and the scope of work was not clearly defined.
We had the necessary experience in business analysis to combine requests from various departments and build a unified solution that would make everyone feel included. We also impressed Bayer by having a business analyst with PhD in Pharmaceutical, improving our communication by speaking the same language our clients used every day.
Creating one solution that fits all
SENLA was recommended to Bayer by one of our partners, so the vetting process was relatively quick.
After a few of our first meetings it was clear that this project had actually not one, but many clients. Accounting, L&D, Marketing, Logistics and a few other departments all had their idea of how the new system would work.
We started by connecting with every team, listening to their experience of working with the current solution, what improvements they would like to see and how we could automate the most repetitive tasks.
Having a local delivery manager helped a lot. Being right there on-site, having face-to-face conversations with people, really helps you understand how the company operates.
"Our most important role in this project was to listen to every stakeholder, validate their requirements and make them feel included. Co-creating a solution that you use every day is empowering, it builds bridges between remote teams, it allows them to see the importance of each other's work, it promotes respect and compassion"
After quite a lengthy phase of business analysis, we designed an architecture that worked for every team involved in event management. It allowed Accounting, L&D, Marketing and others to expedite the process and cut down the costs.
Some of the features we implemented:
Internal chat and comments to collaborate with other teams
Customizable interface for every department
Budgeting approval flow
Integration with accounting systems
Ability to generate reports
Ticketing
Logistics of event planning
Document management
Swag ordering and distribution
Flexible approval process
Speakers riders
Tracking events KPIs
Integration with corporate calendars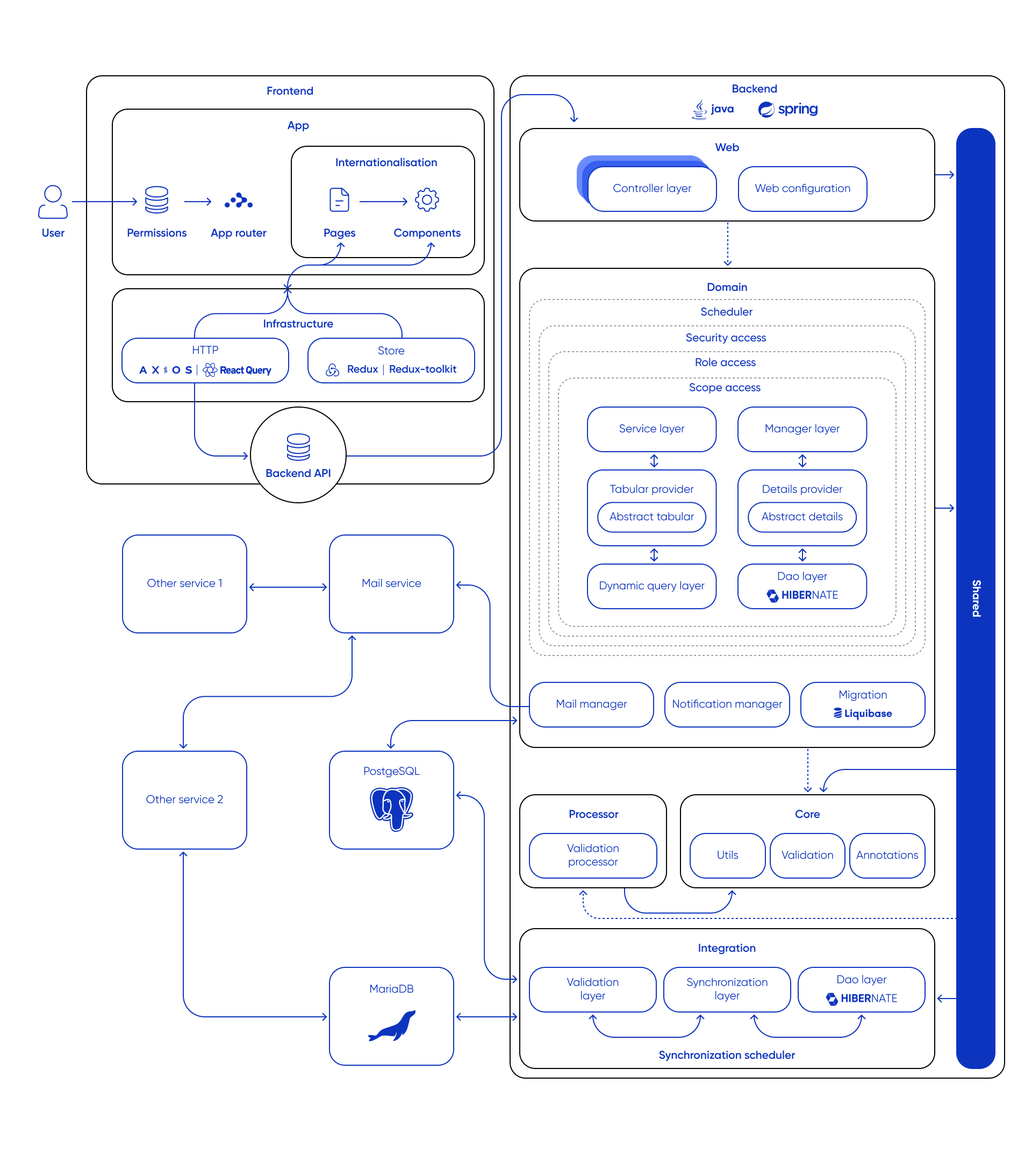 Our solution was built with React, so it works well on any device.
Synergetic relationships, remotely
We spent more than a year working with Bayer on creating a unified solution for their various teams. We are still delivering new functionality based on evolving needs and requirements.
We worked in our regular 2-weeks sprint intervals, delivering a new demo to the Bayer team every Friday for their feedback.
Our employees built warm professional relationships and new friendships during this time.  
When the solution was deployed, adoption and productivity grew tremendously, as well as communication and collaboration among teams that used it. Bayer not only cut the costs and optimized the process, but strengthened the teams by allowing them to be co-creators.
The future of events looks bright at Bayer as COVID-19 restrictions are easing off and we can all spend more time together, aided by seamless technologies that empower our most human qualities: creation and belonging.
Why Senla?
High developer commitment
SENLA software developers are your full-time employees, and they're as dedicated to your success as your in-house team.
Direct communication
You, your tech lead, or your project manager communicate with the dedicated development team directly. No middlemen, no miscommunication.
Predictable costs
You pay your developers' salaries and a flat monthly fee for our services.
Flexibility
Change team size with only one month's notice. Request advanced IT security. Travel to our offices to work alongside your software developers or bring them over to your headquarters.
Frequently Asked Questions
I'm only looking to find a team asap. Can you help?
Sure! We can deploy a team within 10 working days.
What if I want to scale a team to 15 people?
We have lots of engineers & we also add engineers (in case of sick leaves & vacation) in big teams to ensure delivery.
We want developers with Agile experience. Do you do that?
Of course we do! We hire top engineering experts that follow and create industry standards.