The Challenge
Help Abbott deploy and measure its comprehensive L&D campaigns with a scalable technological solution that can scale to the demands of thousands of employees worldwide.
The Solution
SENLA helped Abbott create a custom L&D solution to assess, track and improve the skills of their sales departments that integrated with the existing HR system.
Our solution allowed trainers to create custom programs and seminars that support thousands of learners, can work completely offline, and can be deployed on any device with the help of MDM (Mobile Device Management).
The Impact
Abbott was able to deliver unified L&D experience to its global workforce, measure the efficiency of the sales enablement program and assess the skills of their existing employees. 
Data from the L&D department was easily accessible and integrated into the existing HR system. This empowered Abbott to make better hiring decisions based on data and focus on the learning initiatives that bring tangible business results.
Recognizing technology's potential
Abbott is a global leader in Health Care. They recognize that every person shares a similar purpose: living the best life one can. Creating life-changing technology, be it blood sugar monitors, testing half the world's blood donations or easing chronic pain, is their mission. It's a company that's driven by technology at its core.
Abbott wanted to invest more into its employees through efficient L&D initiatives. There were a lot of disadvantages to the current system: it did not integrate into the existing HR system, trainers used different programs that resulted in disjointed experience for learners, it was not fully available offline if a training was happening somewhere remote, and there was no way to analyze any data.
Abbott seeked to partner with a technology partner to deploy a unified L&D solution to hundreds of trainers and their learners worldwide.
Just as Abbott is in the business of creating life-changing technology, SENLA creates business-changing technology.
Abbott appreciated the mature and solid architectural vision that was suggested during the discovery phase, SENLA's flexibility to the development process and our prior experience in delivering complex business solutions.
Review
They deliver, no matter what. Whatever the problem is, they will create a unique solution for you.
I have never heard the team say: it's impossible. They will go through the requirements and the scope and will come up with an opportunity to use technology in a way that no one has ever used before. 
With SENLA's solution we optimized a process that took weeks to just a few hours. 
All of our business stakeholders are happy with the results. Everything runs smoothly. It's like magic.
Building complex solution that can integrate with existing systems and appease diverse stakeholders
When you build a new technological product that needs to work with existing business processes and systems, you need to take into account how your solution will affect people who are running them, and organization in general. 
Will it make their lives easier? Will it allow them to invest more time into learning or reflection? Will it decrease human error factor? Will it help align manifold departments and their objectives with the general business goal?
This was our initial stage: figuring out how we can improve existing processes and make people's lives easier, and align them with a unified goal.
"The greatest challenge is connecting people by aligning them with a single goal. It is not technology. If you know how to connect a group of people, translating it into the language of technology becomes much easier."
"That's what this project was all about. Oh, and we had to deliver it in four months!"
We worked closely with all the departments involved: L&D, HR, in-house dev and tech admin teams, and learners.
The solution scope had the following features:
Program design and development
Ability to generate custom workflows and agendas
Design custom role playing and team building exercises
Gamification mechanics
100% availability offline
Certification
SCORM support
Skills assessment by person, team and department
Unified reports generation for every L&D initiative
Company wide analytics
Seamless integration into the current system
Automatic ticketing for live events
Automatic event agendas generation
Security
MDM (Mobile Device Management)
Auto-generated mobile apps
Integration with the existing corporate solutions
We came up with a solution that had four modules and covered all the requirements.
It was available online and was accessible 100% offline as well, so that trainers don't have to rely on spotty internet connection in remote locations. The statistical module collected all the necessary data for the HR team and integrated with their system. Auto-generated mobile apps allowed to customize the entire flow and process of a seminar to take into account local requirements and learner's preferences. And MDM allowed administrators to deploy the apps fast and securely.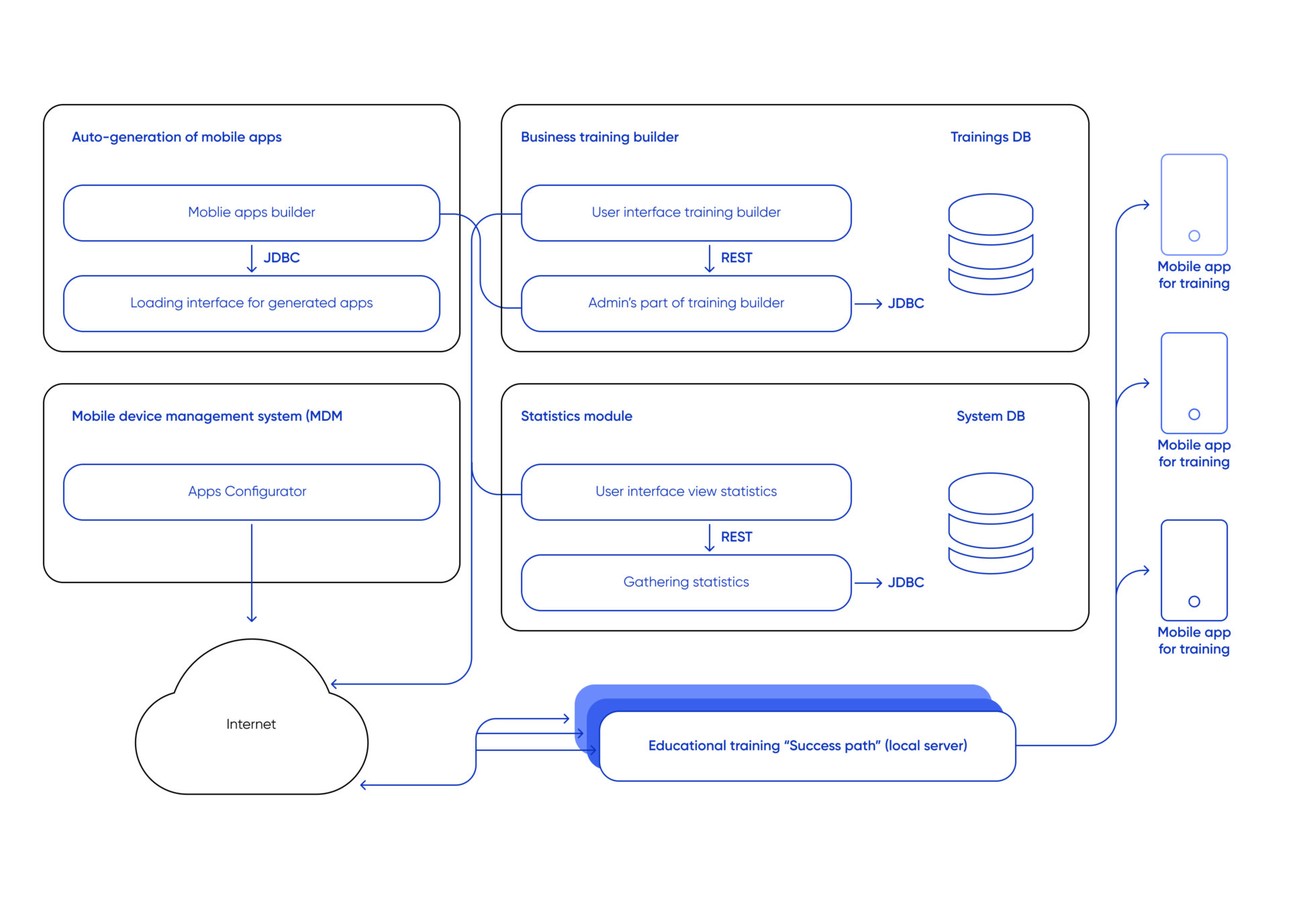 Operating a lean startup in a corporate environment
When we learned that the client expected an MVP in just four months, we realized that it's not going to be your usual corporate project. We had to move fast and iterate even faster.
We decided to adopt Lean Startup methodology for this project, as it's a proven way to test ideas and deliver working solutions on tight deadlines.
In addition to our regular 2-weeks sprints we would show demos to Abbott team every Friday to get their input.
In the true fashion of a startup, we had to come up with new roles to support trainers on-site delivering L&D campaigns with our new solution. We had set up a dedicated support team that was available 24/7 whenever there was a big learning event in the company. They would ensure that things were running smoothly and would quickly fix any problems.
The support team has been working for 2 years now.
The success of the project required Abbott and SENLA adopt new ways of working internally, offer and broaden its services and ultimately learn how to align teams with a single purpose through technology.
Why Senla?
High developer commitment
SENLA software developers are your full-time employees, and they're as dedicated to your success as your in-house team.
Direct communication
You, your tech lead, or your project manager communicate with the dedicated development team directly. No middlemen, no miscommunication.
Predictable costs
You pay your developers' salaries and a flat monthly fee for our services.
Flexibility
Change team size with only one month's notice. Request advanced IT security. Travel to our offices to work alongside your software developers or bring them over to your headquarters.
Frequently Asked Questions
I'm only looking to find a team asap. Can you help?
Sure! We can deploy a team within 10 working days.
What if I want to scale a team to 15 people?
We have lots of engineers & we also add engineers (in case of sick leaves & vacation) in big teams to ensure delivery.
We want developers with Agile experience. Do you do that?
Of course we do! We hire top engineering experts that follow and create industry standards.