The Challenge
Help Banx.one validate their idea of connecting real estate investment with a digital estate security platform built on top of blockchain technology.
The Solution
SENLA developed a digital asset-backed global trading platform to enable easier access, transparency and liquidity to real estate investments.
The Impact
Banx.one successfully validated their idea and vision of connecting the physical and digital worlds by offering investors a variety of revenue streams with fractional and tradable real estate investments.
It's a bold new world of blockchain ideas
Banx.one was a bootstrapped international startup, based in Israel.
Its mission was revolutionary – open up the world of real estate investment to millions of new investors. It combined the world of fractional digital ownership with the physical world of real estate, creating a new financial instrument that was more democratic, transparent and accessible.
Traditionally only available to institutions and the wealthy, Banx.one had a simple idea: mint new crypto currency for each physical real estate property.
We met with Vadim, Banx.one CEO for a few rounds discussing our experience working with blockchain technology, ideating the architecture of the solution and building rapport. After a few days of intense collaboration Vadim decided to go with SENLA: we had the necessary experience, would cut the costs more than in half and, most importantly, we were as interested in seeing the project succeed as his team was.
"This is not my first experience running an outsourced project. SENLA's performance has been close to our own in-house teams. We had a few minor issues, but they all got resolved quickly.
It's great working with a team that sees the big picture and doesn't think in terms of hours or developers. Their processes are mature and at the same time they are flexible and adapt to our ways of working. SENLA is not motivated by a higher invoice, they really want your business to succeed.
I really liked that they can provide additional services, which aren't related to development and QA, such as DevOps and CI-CD.
I'd rate them a 8/10 overall, which I don't even give to all our in-house teams."
Hacking traditional technologies and business models
After the architecture of the solution was laid out, we started working on software design, development and testing. Banx.one had a product development team in-house in Israel, but needed an R&D partner.
There were several modules we needed to develop and test and tie them into one system: 
Crypto market
Tokenization of real estate properties
Buyer and seller verification
Back-end based on Ethereum, with secure design, supporting SSO and APIs
Front-end designed to serve different roles, such as administrator, validator, buyer and seller
The project had to integrate well with many 3rd party systems, especially with Identity Verification systems. Each Seller and Buyer would go through automatic and manual ownership verification processes, making sure that a participant is real, their credit score is satisfactory and source of capital is clean and transparent.
"SENLA = innovators. When we see a project that is far ahead of its time and can positively influence communities worldwide – count us in!
It's an opportunity to create something nobody has ever seen before. It sparks enthusiasm and drive in our people."
We released the first version after 4 months and continued development of additional features for another 8 months. It allowed Banx.one to test and validate the idea and the MVP with a major consulting agency that gave the project the green light.
Unfortunately, shortly after finishing the project, the US government passed new legislation targeting our client's innovative idea, killing it swiftly.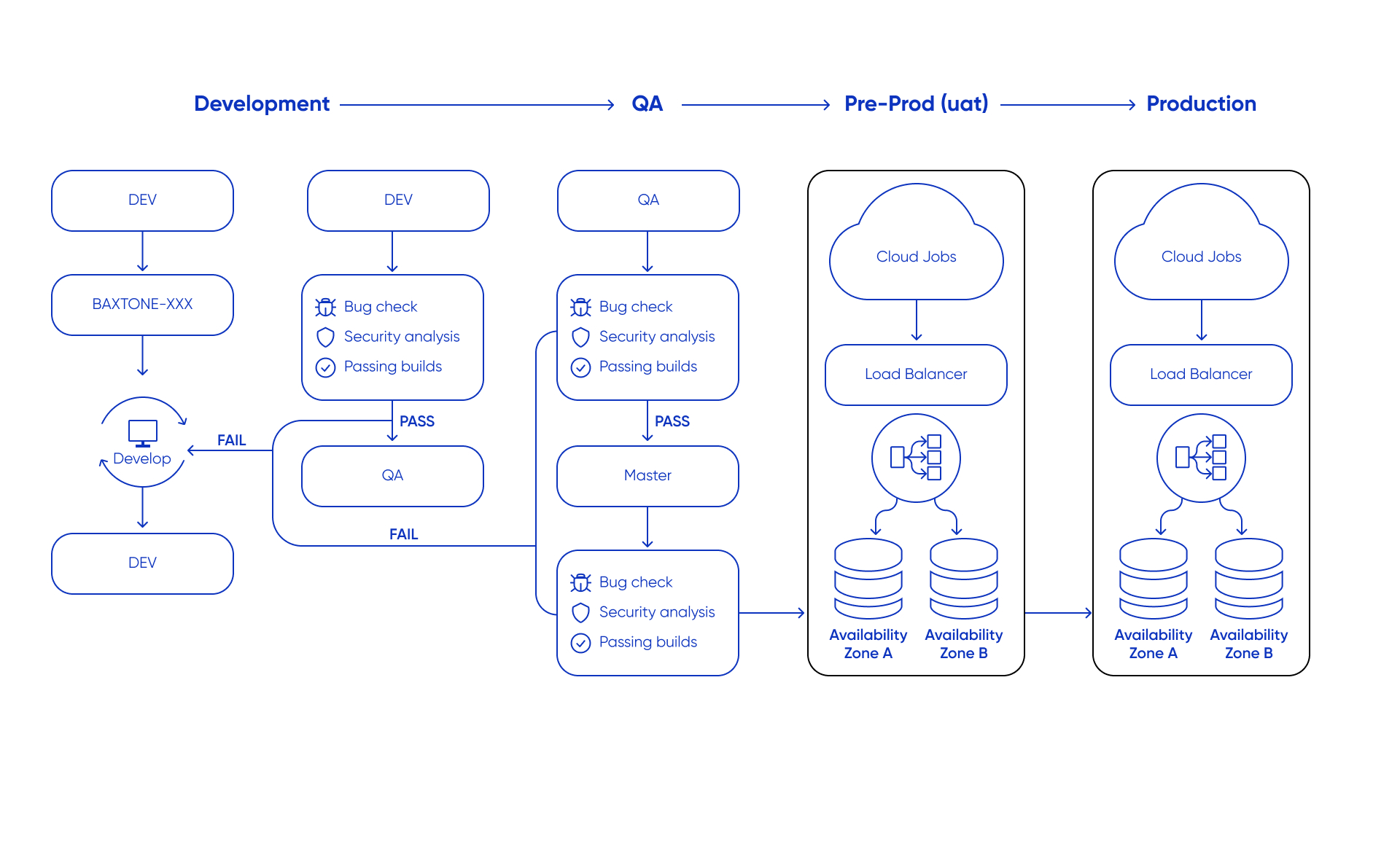 Innovate, adapt, learn
Although the project was short-lived, our team brought Banx.one's dream into reality and made it possible for them to test and validate the cutting-edge idea.
We discovered new services we could offer to our clients, such as DevOps and CI-CD. We successfully adapted our established processes to match the speed and agility of Banx.one's team.
The client liked our two-weeks agile sprints with Friday demos and kept this cadence for the duration of the project.
The solution passed an external audit by a major consultancy firm and was set to launch as a preview to a limited audience of investors and sellers.
Every startup comes with its own risks, but without bold new ideas we would never have conveyor belts or shipping containers. Each of these innovative ideas took decades to become the norm and was opposed left and right.
It is the vigor of a creator, the vision and luminosity of the mind that powers up extraordinary new products, services or processes. SENLA helps innovators bridge their ideas with reality, and we are proud to have worked on this project together with Banx.one.
Why Senla?
High developer commitment
SENLA software developers are your full-time employees, and they're as dedicated to your success as your in-house team.
Direct communication
You, your tech lead, or your project manager communicate with the dedicated development team directly. No middlemen, no miscommunication.
Predictable costs
You pay your developers' salaries and a flat monthly fee for our services.
Flexibility
Change team size with only one month's notice. Request advanced IT security. Travel to our offices to work alongside your software developers or bring them over to your headquarters.
Frequently Asked Questions
I'm only looking to find a team asap. Can you help?
Sure! We can deploy a team within 10 working days.
What if I want to scale a team to 15 people?
We have lots of engineers & we also add engineers (in case of sick leaves & vacation) in big teams to ensure delivery.
We want developers with Agile experience. Do you do that?
Of course we do! We hire top engineering experts that follow and create industry standards.