Foreword
Traditional banks are becoming an obsolete solution for modern-day banking needs. Picture outdated ATMs, long banking lines at brick-and-mortar locations, and paperwork for any significant transaction. Those banks are old, slow to process, expensive to maintain, and can cause a lot of frustration. If traditional banks are no longer cutting it, what is the new solution? Banking with the new player in finance, of course – neobanks.
Neobanks (also referred to as challenger banks) entered the scene as an answer to the abovementioned problems. These digital-only platforms offer minimal to low fees, all with easy-to-use digital software through browsers or mobile apps. Created by fintech startups, the neobank revolution is here to disrupt the industry. Let's go into the ins and outs of the new player and decide whether you should join the race.
What is a Neobank?
Although the term suggests it operates as a bank, technically, it is a financial technology (fintech) company or firm that offers an app, software, and other technologies to streamline operations through online-only banking. By ditching the physical branches, the fintech companies can offer lower fees on banking services such as checking or savings accounts with higher interest rates on the latter.
While neobanks offer traditional banking services through mobile apps and software, the financial aspect of the backend is most commonly managed by a traditional bank through a partnership. The goal of neobanks is to establish a better experience through more appealing rates and by providing tools to help educate on financial health.
Neobanks vs. Online Banks vs. Traditional Banks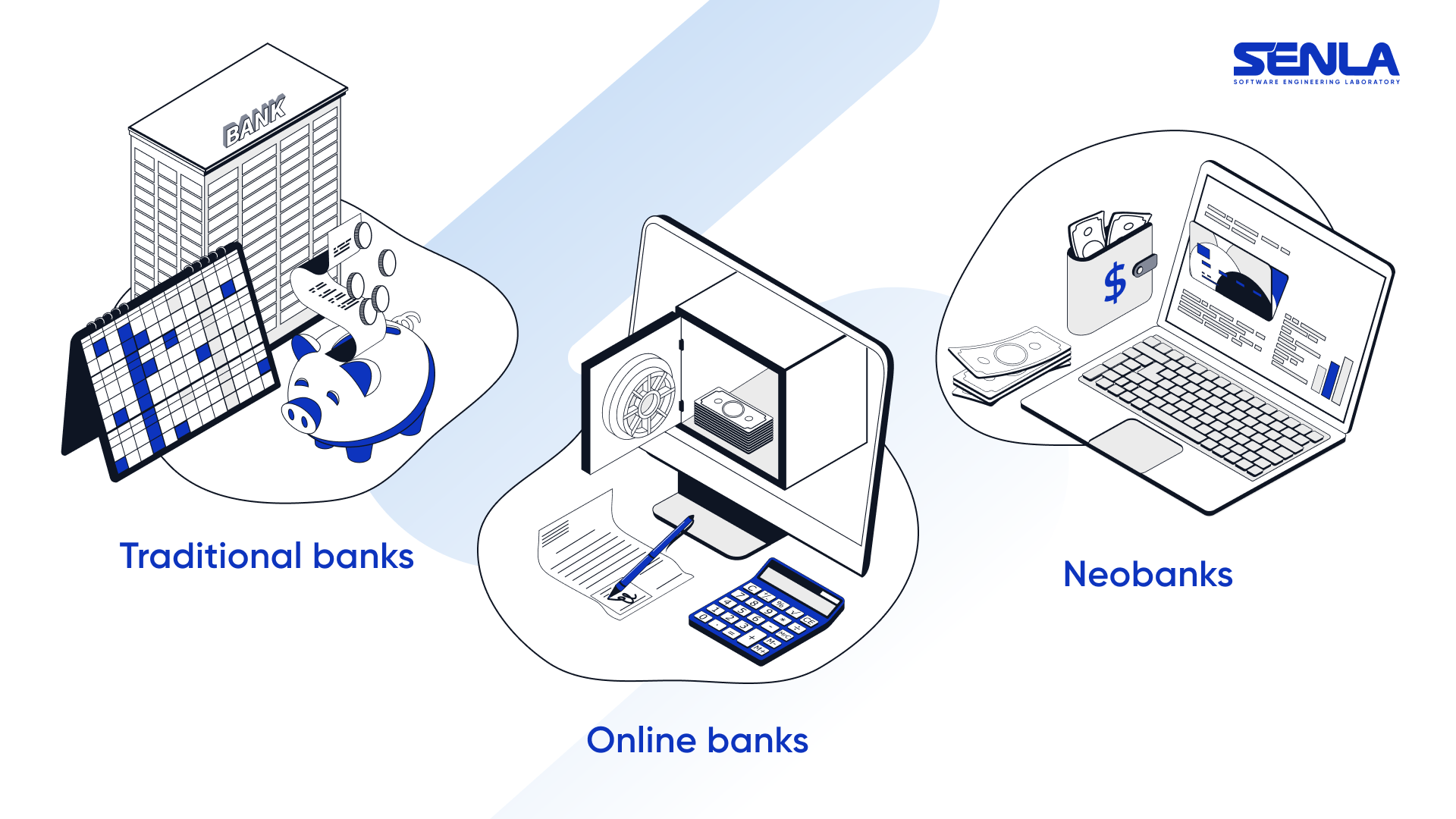 The three banking options are easy to confuse because the majority of incumbents nowadays offer online banking and there are also online-only banks that appear almost similar to neobanks. Understanding their differences is important for anyone planning to launch a challenger to properly position it on the market. 
Incumbent banks are the only option that offers brick-and-mortar locations for people to handle their banking business in person. However, there is always more paperwork and documentation if you go that route, and banking transactions tend to be slower.
Online banks in their turn lack physical locations, but they're still banks in the full sense of this word: having a license and providing a broad range of financial services including loans. For their primary channel is digital, they're more prone to innovation to win customers unlike incumbents who quite often have legacy online banking systems. 
Neobanks are the most tech-forward class representatives and are designed to streamline banking using the latest tech. They have the least registration and usage burden among the three: providing quick sign-up forms and automatic identity and credit history checks without manual intervention in the majority of cases. 
The primary distinction of neobanks from the other two types is that they operate under a limited license and are not legally considered banks. For this reason most of them do not provide loans to minimize risks and focus only on checking and savings accounts. However, to prove their reliability, many neobanks partner with incumbents to insure their customers' money on these accounts. Such an approach has its benefits: reduced risk, along with less overhead, is exactly what empowers neobanks to offer lower fees and higher interest rates.
All in all, neobanks are a faster, more flexible and cheaper option with low to no monthly banking costs. They strive for transparent banking by offering simplified pricing that is easy for anyone to understand. This creates a strong alternative to incumbents, who, on the contrary, may mask fees within their lengthy terms of service that are difficult to read and understand.
The Technologies Behind Neobanks
As said above, neobanks integrate the latest technologies to ensure effortless, customizable, and straightforward user experience. With a few simple strokes on a smartphone, you can open an account, access money, transfer funds, and more.
Here are some of the technologies that neobanks might use to empower this convenience.
Сloud adoptions with microservices and micro frontends create a flexible scalable architecture and allow to quickly introduce and disable features.
Blockchain integration helps setting up robust Know Your Customer (KYC) mechanisms with biometrics and secure authentication to ensure highest security standards.
Intelligent Image Recognition can automatically retrieve information from uploaded pictures speeding up the process. Integrated image hashing, compression, and other techniques, allows to verify there are no duplicate documents or images presented.
Artificial intelligence (AI) and machine learning (ML) can process information autonomously and verify a person's financial status, credentials and other necessary information in a fast and reliable manner.
Neobanks' Unique Features That Make Them Stand Out
It's easy to see how neobanks can be appealing to the growing number of customers who demand ease of use and convenience. With state-of-the-art applications, they are able to easily deposit checks, make peer-to-peer transactions seamlessly, open savings accounts, and more, all without the various fees traditional banks tend to tack on.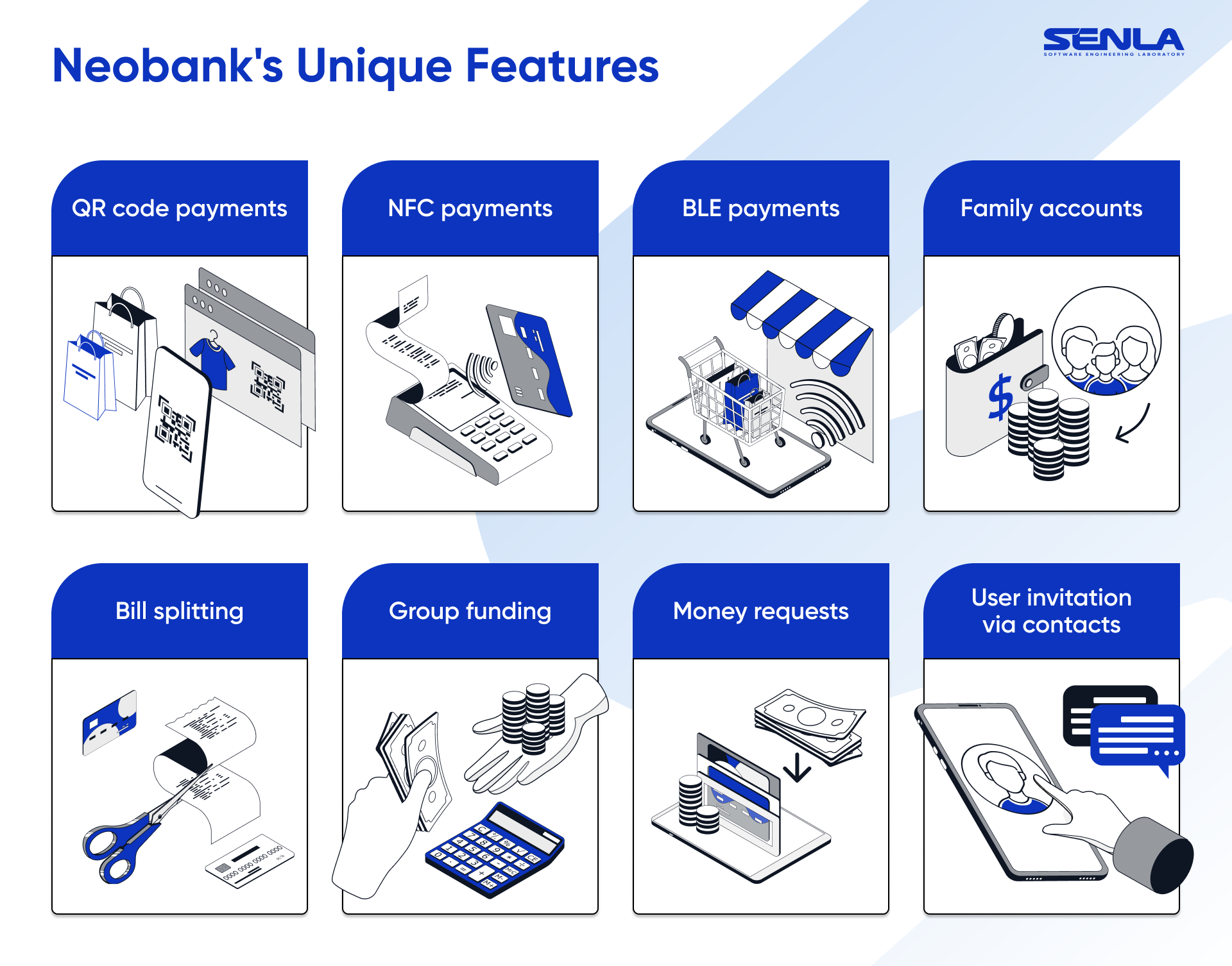 The neobank industry is relatively new as more developers work to create a better and faster banking service through advanced technology and features that continue to evolve. SENLA has been an industry leader in developing software with fintech companies to help create secure mobile banking solutions like the one we've designed for an Israeli company. Our background in developing native and cross-platform mobile applications helped them reach their goal of expanding their business into becoming an internet banking service provider.
Created and backed by our team of experts, the unique features our system brought to its local market were:
QR code payments – The ability to transfer funds between users by generating a QR code with one device and scanning it with another. Users can also pay for services via QR codes with a POS terminal that generates it. The tech built-in can help users pay even if they have a phone that lacks an NFC module.
Family Accounts – A shared account option between the members of the same household offers an easier way of managing family budget and enables a seamless access to it for each member.
Bill Splitting – If somebody pays the whole bill, they can easily divide it among the rest of the group. All a person has to do is to click "Split a bill" on the payment confirmation page, then select other persons' wallets, input required sums and bulk invoice everyone (or generate QR codes for each person).
Group Funding – The app allows several users to transfer sums of money to one account. This is great for teams when one person is heading to pick up lunch; other users can easily send their share, so the financial burden is not left with the one who picks it up.
Money Requests – You can request money from friends or family easily through the app for any sum in which another party can approve or decline the amount. This is great for when a user handles the finances and they need to request their share, the app's feature makes this quick and easy.
Invitation of Users Via Contacts – When a user launches the neobank app, it asks permission to scan the contacts to find which of them also use it. The person can then share their information with those who do and invite those who don't. What traditional bank allows you to invite people simply from your phone contacts?
NFC Payments – NFC payments have not made their rounds through most traditional banks' applications. You normally have to use an intermediary app such as Apple Pay or Google Pay. The app that we've developed allows built-in NFC payments, which helps consolidate all transactions in one place.
BLE Payments – One of the latest payment methods to enter the market is Bluetooth payments via a BLE or Bluetooth Low Energy module. This is another step forward in enriching customer experience, barely offered by anyone else.
Neobanks have been able to successfully crack what seemed to be an established market and offer state-of-the-art functionality through the focus on digital. The technologies that they employ create an easy and convenient way to conduct transactions, all from a smartphone or PC, while also economizing on fees. 
This new banking option emerged as an answer to the growing need for digital convenience and to the pain points of traditional services. Creating and launching a neobank application requires the help of a certified experts team. If you're ready to make a play in the industry and take on the competition, whether you need development or consulting, we're proud to be able to confidently assist you. Just submit a form below and let's create a bank of the future together!