The Challenge
Help We4G become a leader in a crowded local telecom market and create a new value stream by offering secure and easy-to-use banking services to its customers.
The Solution
SENLA helped We4G create a custom banking architecture, capable of running 1MM transactions per second, supporting fraud monitoring, issuing virtual cards, and P2P payments.
We designed and developed native iOS and Android clients and assisted We4G to pass local regulators audit in just 2 months.
The Impact
We4G deployed our skilled resources and capabilities and combined them with existing infrastructure to create a competitive advantage none of its rivals could replicate in short or even long term.
Customer's adoption rate of new banking services reached 84% after the first year and allowed We4G to position itself not only as a Telecom Provider, but also as a full Bank Service Provider.
Transcending traditional Telecom boundaries
We4G is one of the largest telecom providers in Israel with more than a million of subscribers.
When the Israeli government announced an initiative that would allow companies to offer banking services to their customers, We4G decided it was a perfect opportunity to expand its existing service portfolio and differentiate itself from its rivals.
The plan was ambitious: to transform into a Neobank that would support most innovative financial services, such as NFC and QR code payments, P2P transfers, and the ability to apply for a loan or a credit line right from a phone.
The execution would require building a custom banking architecture that would pass local regulator audit and innovative iOS and Android apps that would exceed customers expectations.
All of this had to be done within 6 months.
We4G started looking for a reliable engineering team that could deliver high-level technical solutions and adhere to a strict list of requirements set by the financial regulator. These requirements were to ensure the company offers the utmost level of security for all its customers.
We4G was impressed right from the start by our scalable, modern solution based on microservices architecture, that included layers of business logic, data collection, backend, and frontend, UI/UX, and integration of external systems.
"SENLA's main advantage is the diversity of its team's professional backgrounds. This allows them to come up with creative solutions to complex technical problems. We have been really impressed with the level of commitment SENLA has given us. If we need more resources or to speak to someone during their non-working hours, they're always available to answer questions and help us find the best solution. We refer SENLA to our partners all the time."
Building stress-resilient solution that can scale and adapt
The first week of We4G and SENLA working together was spent creating and ideating an underlying technical architecture that on one hand would adhere to strict government standards, and on the other would impress customers so they would feel confident enough to switch to We4G for their banking needs.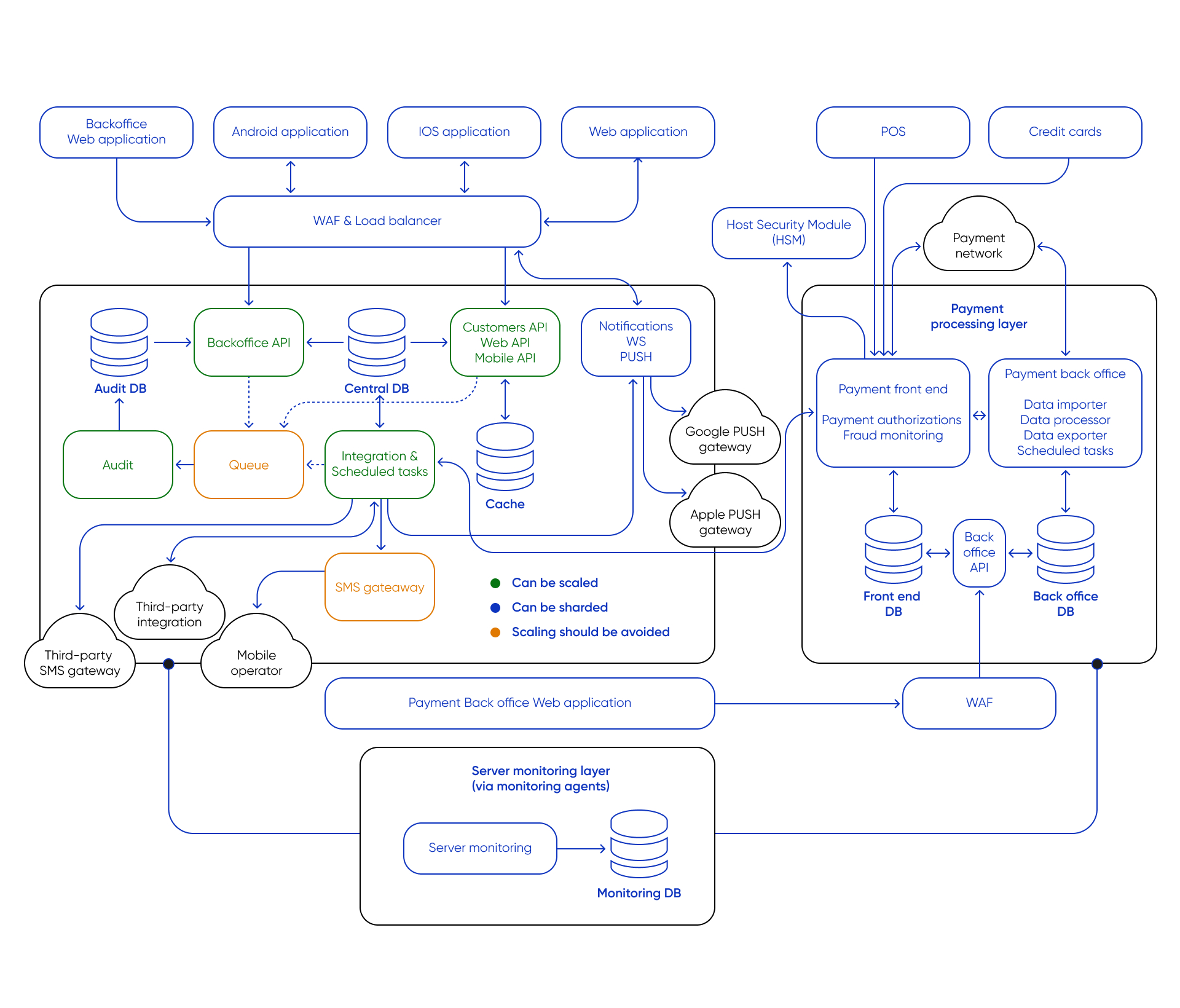 "I remember saying to Michael: Reliability, scalability, and adaptability are the cornerstones of any financial system," reflects Viktar Savoska, SENLA's CTO. "These three principles defined not only the technical solution, but our partnership as well."
We4G requirements included creating a custom Payments Gateway, Fraud Monitoring, Payments Authorizations, Payment Back Office and third-party integrations.
The system had to support a wide variety of financial tools and services offered to its customers.
Paying for local services
After completing the initial design and vision of the system architecture, we moved on to working on design concepts for the native apps. It was paramount to deliver a sophisticated, polished and easy-to-use experience to We4G's customers.
Why native apps?
While others offered to build cross-platform apps and save dev time, SENLA insisted on developing native applications for iOS and Android.
This allowed We4G to adapt to ever-changing requirements set by local regulators, market demands, and Apple and Google, which would be impossible to achieve with a cross-platform approach.
Our designers were able to implement fluid and fast algorithmic animations, adding to the overall user experience.
For the tech stack we went with industry standard Java, Hibernate, and Spring. We wanted to make sure the system would be stable even under a heavy load of transactions (up to 1MM), stress-resilient and scalable.
Deploying the hybrid work environment to succeed
It was clear that the project of this complexity and urgency required an innovative approach to succeed under strict timelines set by the customer.
We adopted a 2-weeks sprint schedule and released new demos to We4G every Friday to get their  input and gather feedback.
After a few weeks it was clear that we had to bring a local delivery manager to Israel. This helped us bridge our cultural backgrounds and move faster in dev cadence and communication.
When the project was finished, we partnered with KPMG to pass the local financial regulator audit. It took only 2 months for our banking solution to get the official approval.
Who doesn't like the convenience of banking without the need of visiting a branch?
In this world dominated by technology, commerce, society and life must flow digitally. In order to keep up with the shifting social paradigm, We4G had taken a big leap forward to transform from being a just Telecom Provider to a fully-fledged Bank Service Provider.
We4G and SENLA's collaboration proves that embracing innovation and putting customers first can open up new value streams even in such a traditional space as telecom providers.
Why Senla?
High developer commitment
SENLA software developers are your full-time employees, and they're as dedicated to your success as your in-house team.
Direct communication
You, your tech lead, or your project manager communicate with the dedicated development team directly. No middlemen, no miscommunication.
Predictable costs
You pay your developers' salaries and a flat monthly fee for our services.
Flexibility
Change team size with only one month's notice. Request advanced IT security. Travel to our offices to work alongside your software developers or bring them over to your headquarters.
Frequently Asked Questions
I'm only looking to find a team asap. Can you help?
Sure! We can deploy a team within 10 working days.
What if I want to scale a team to 15 people?
We have lots of engineers & we also add engineers (in case of sick leaves & vacation) in big teams to ensure delivery.
We want developers with Agile experience. Do you do that?
Of course we do! We hire top engineering experts that follow and create industry standards.